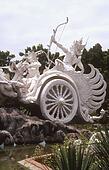 DEAR POSTMASTER,
Life is like a sailing boat on the water. The boat dragged by the current of water and the wind. If we not control

the boat ,our journey will end up to the destination of the current well as the wind blows on the water.

Such type of journey will not give any satisfaction to the human framed mind to enjoy the life. So to control the direction of the boat we should consult the great epics Ramayana and Mahabharatha. Both are not only teaching the divine interference in the life of the person who wish to follow Dharma but also teaches the management of the mind for self discipline.
Now we have taken the responsibility of the Leader of a group.

In our day to day life we have to manage people with different mind sets to do our duties and to achive the goal. All we have equal rights and titles, But the responsibility rests on the shoulder of the team leader........the manager.......the Postmaster.
I read Mahabharatha several times, but it astonishes that it not only teaching the divine power but also teaches the management principles. So I wish to share the great Mahabharatha

in relevance with management.
Here you read the
winning mantra from Mhabharatha
Click and read :
WINNING MANTRA FROM MAHABHARATHA